Rosehip Oil Benefits for Acne and Scarring
As rosehip oil is known for its healing and anti-microbial properties, it is widely used in skin care products. It contains high levels of vitamins C and A which are believed to be required for cellular regeneration and maintenance of healthy skin. Furthermore, this oil also contains fatty acids (omega 3 and 6) which may assist in repairing broken cell membranes and tissues.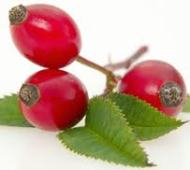 Rosehip Oil for Acne
In spite of being categorised as a vegetable oil, rosehip oil is relatively non-greasy (when compared with other carrier oils). For this reason it may very well be useful in treating acne even if the sufferer is typically highly sensitive to products that may be oily. Many consider rosehip oil (or rosehip oil based products) to be better than commercial anti-acne products. Rosehip oil provides for a natural alternative to creams and ointments that may or may not be good for the skin.
It should be mentioned though that the use of rosehip oil for the treatment of acne should, however, be handled carefully when one has very oily skin. Some skin care professionals do not recommend its use for some people who have particularly oily skin as there is a risk that it may aggravate the skin and the acne even more. It is therefore advised that a dermatologist (or other such suitable health care professional) is consulted first before using rosehip oil for the treatment of acne, when there is the potential of reaction or enhanced skin sensitivity.
Rosehip Oil for Scarring
While the use of rosehip oil on fresh acne spots is still being evaluated, its use has been proven effective in repairing acne scars as well as other forms of scars and skin blemishes. Through regular use, marks and scars may become less prominent in time. Often the skin will return towards it's original skin tone (although there are no guarantees that it can eliminate scars completely).
The anti-scarring property of rosehip oil is not only applicable to acne scars. It may be used (under medical advice) on scars left from chicken pox as well as minor burns and other types of wounds. It can also be applied to scars left from boils and other forms of injury. There has been some consideration whether rosehip oil can be used safely on the scars left after surgery for breast cancer.
How Rosehip Oil Works
Using rosehip oil on the skin appears to stimulate the production of new and healthy cells. Its antioxidant and anti-microbial properties can minimise the growth of bacteria so as to avoid different types of breakouts (pimples, whiteheads, blackheads, etc.). When applied to scarred skin, the supporters of this oil claim that it repairs tissues so that the damaged cells are broken down and replaced with new cells.
Advantages of Using Rosehip Oil for Skin Problems
As this type of oil is taken from natural sources, it doesn't contain any harmful chemicals. In fact, it is loaded with vitamins and antioxidants that can help in keeping the skin smooth, healthy and young-looking.
The application of rosehip oil on the skin is a straightforward procedure. Simply massage it gently on the affected areas regularly.
Aside from the healing properties that help in treating skin blemishes and scars, rosehip oil is also promoted as having anti-aging constituents. One's skin can remain soft and smooth as the healing oil also stimulates the production of collagen.
Unlike other skin care products, this type of oil is also non-greasy. It won't clog up pores and cause dirt to be trapped underneath the skin. And even if it's used in the treatment of pimples and acne, it doesn't leave the skin dry and dull-looking. Many supporters even use it as a moisturiser.
Choose Pure Organic Rosehip Oil
As there are a lot of skin care products available on the market, if you are concerned about the quality of the products you are putting on your skin then you should choose an organic rosehip oil. Always read the package labels too and follow the supplier's recommendations as some products need to be washed off while others can be kept on the skin overnight or under the makeup.
Note that rosehip oil has a distinct smell that can be quite unpleasant for some people. If you find that you do not like the aroma, then you can blend it with other essential oils like lavender and jasmine.